News
Friday October 9th, 2020, 11:18 am
After 30 plus years of working for the family business, Miranda is now retiring.  All future bookings will  be handled by a local company CornwallsCottages.co.uk.  They  know the area well and will look after our future guests.  Nothing changes at Place and Nicky will still be there to welcome you all.
Thursday July 30th, 2020, 11:12 am
We can now announce that we have high speed broadband in all the cottages.  We hope this doesn't disappoint those who used to use our lack of a decent internet connection as an excuse to kick their teenagers outside.  But we do hope that it will make life easier for all our visitors.
Tuesday May 26th, 2020, 11:34 am
Superfast fibre broadband is  coming to all the cottages in the coming months.  All been delayed because of the lockdown, but it is coming.
Monday May 18th, 2020, 12:23 pm
Every effort is being made to accommodate guests in alternative weeks where there is availability.  Please get in touch with Miranda when and if you are needing to move or cancel your holiday due to Covid-19.  We do have options.
We look forward to welcoming guests as soon as we are told we can open our cottages.
Monday May 18th, 2020, 12:19 pm
Look forward to an Autumn get away….
If there isn't a week available for you this summer, remember, September and October are lovely and even in November the days can be warm and when the evenings turn chilly you can cosy up in-front of an open fire.  The sea remains warm until about then too, and it has been known to be hot enough to swim in November.
Wednesday October 16th, 2019, 10:09 am
From glorious daffodils and bluebells in the spring to wonderful walks in the autumn with summer sand, sun and messing around in boats in the summer.  A holiday in St Anthony in Roseland Cottages has it all.  Go to our vacancy chart for availability and pricing.
Tuesday July 2nd, 2019, 12:43 pm
Meadow House is available for the week of July 6th due to a cancellation.  Sea is warm, I was swimming this week.  It will be dry and warm next week as well.  Normal week is £1800.  Offering it for £1300.  Sleeps 6/7.
Monday January 7th, 2019, 4:13 pm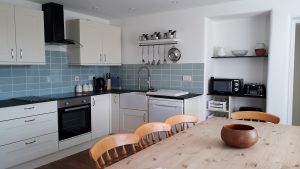 Meadow House has a brand new kitchen.  Very smart!
Tags: beaches, Cornwall cottages, Meadow House, new kitchen, St Anthony in Roseland Cottages, walks
Tuesday September 18th, 2018, 9:34 am
Our 2019 tariff and availability is now ready and will soon be showing on the website.  Until it is uploaded please contact Miranda for prices, vacancies and availability.
Wednesday March 28th, 2018, 11:55 am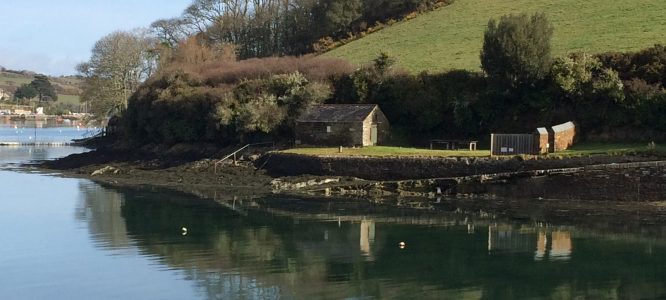 Place slipway and boathouse on a spring morning. St Anthony in Roseland Cottages.
Tags: boathouse, cornwall, Place, slipway, St Anthony in Roseland Cottages, sunny spring morning